Publication Date:
January 8th 2021 by Raine Miller Romance
Plot: Priceless paintings…
Done in a master's hand…
Revealed two centuries after they were created…
A collection of paintings has complicated Lord Rothvale's life in ways he could never imagine. Actually, make that a beautiful art specialist from the University of London responsible for the complications in his life.
He's sure about one thing though. Before Gabrielle Hargreave blew back into his sights on a stormy summer night, he never felt this good. She's turned his world upside down, along with his wounded heart.
But Gabrielle is sporting a wounded heart of her own, and she's terrified of risking it again on someone like Ivan. Will he hurt her as others have done? Or is Ivan Everley more than just commanding male beauty in a lordly package?
He will tell you he is, and knows how to keep his head in the game when it matters. Yet the truth is clouded for these two and there is trouble afoot... as well as an artfully intriguing mystery.
But Ivan is certain about one thing. He has identified his target and is determined to take the win—making Gabrielle his one and only Lady Rothvale...
A love beyond any price…
Lives intertwined over the ages…
Discoveries of the heart and of treasures hidden away…
**This is Book 2 of a duet. Read PRICELESS first. You have been warned. xo
Like many of you, I'd originally long given up on this series. But low and behold, one day on my Amazon recommended pre-orders this book showed up-- and let me tell you, it was one hell of a welcome surprise!! Author, Raine Miller delivered!!
I've been married to Raine Miller's books ever since Ethan and Brynne and have racking my brain for 6 long years of where Brynne's bestie,
Gabrielle "Gaby" Hargreave,
and Ethan's cousin,
Lord Ivan Everley, 13th Baron Rothvale's,
story may go. That's how imprinted these characters were in my heart.♥
Now after a long drought, My Lord will finally be released and I couldn't be happier to get my grabby hands on it!!
My Lord takes place right after Priceless with Ivan asking Gaby to be his submissive and Gabby gaining sole, exclusive access to Ivan's private art collection in his house.
My Lord explores more of Ivan and Gaby's decadent relationship, with them learning more about each other and waltzing into uncharted territory for them both.
It also unwinds more on Ivan's backstory, not so much Gaby's, shedding more light on Ivan and even bringing forth a past adversary looking to destroy everything that Ivan holds dear.
This definitely anted up the stakes toward Ivan coming into terms of his feelings for Gabrielle and where she placed in his heart. Is she just his latest obsession or is she something more?
What Ivan does know, is that she is his. His beautiful, exquisite, priceless artifact that he has no plans to share with anyone...Someone, he could not and would not get away. He was her lord, and she his lady, and he would not rest until he made sure that all obstacles and dangers would not come in the way toward protecting what is his.
"Gabrielle was the one exception….With her, the words were necessary. I needed to hear them because if she used them on me...then it made her….my lady."
"I had plans to win her heart and make her mine."
#MY THOUGHTS:
Hands down, a worthwhile awaited wait from author Raine Miller! Ivan and Gaby complimented each other so well! They were each other's ying and yang.
And don't even get me started on their sex scenes!! Woah!!
Ivan. That man is sex on legs! I enjoyed his forwardness with Gabrielle, even if he didn't feel like he deserved her. He was a gallant and unapologetic character that went against his solitude nature and turn over ever he's over known just to be with Gabrielle.
"I don't deserve her, but even so, I'm taking her."
I loved seeing his Dom side. But I also loved seeing his vulnerable side. He felt very well written and balanced.
"She'd done some….to my heart. Made it vulnerable again. The one part I did not care for at all.
As for Gaby, she was the biggest enigma to me even as the story was being told by duo (hers and Ivan's) character views. She, I couldn't help but wonder over and over, what happened that she would never want to return to the United States? What shame does she carry that bars her from ever wanting to set foot on American soil again? Awww, ssoooo many questions…
"And right now, for our immediate future in this room together, he would be my lord."
That all said, oddly enough, some of my guiltiest pleasures from this read were not only the main characters, Ivan and Gaby, but also the paintings themselves. They were depicted so vividly and beautifully. Almost like poetry. The art subject (whom I will not divulge of who/what it was) of a lot of those said paintings, felt as if she was brought to life in front of my eyes and made Ivan's and Gaby's love story even more beautiful and breathtaking for me with her character's story tie-ins. If you don't get what I mean by this, make sure you cover all of author Raine Miller's books related to this series before you jump into Priceless and My Lord. It makes the books not only easier to follow along but more meaningful for fans of this series.
ALL IN ALL? One click this gem now!!!
"This amazing connection the two of us had found together in the magical land of Donadea, in a castle filled with priceless treasures, hidden away in an enchanted mist where nothing from the outside could break through the magic protecting it."
☆
✮
About the Author
✮
☆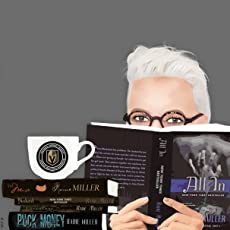 Raine Miller has been reading romance novels since she picked up that first Barbara Cartland book at the tender age of thirteen. And it's a safe bet she'll never stop, because now she writes them too! Granted Raine's stories are edgy enough to turn Ms. Cartland in her grave, but to her way of thinking, a hot, sexy hero never goes out of fashion. A former teacher, she's now writing sexy romance stories full time. She has a handsome prince of a husband, and two brilliant sons to pull her back into the real world if the writing takes her too far away. Her sons know she likes to write stories, but gratefully have never asked to read any, thank God! Raine loves to hear from readers and to chat about the characters in her books. You can contact her at raine_miller@ymail.com or visit
www.RaineMiller.com
to sign up for updates and her newsletter with links to upcoming books. Also, you can text RAINE to 96000 if you prefer.